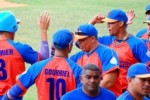 The baseball team from the province must consolidate its game if it is to fight for the title.
After five seasons out of the elite, Sancti Spiritus's Gallos (Roosters) are back in the game again, and are already included among the best four teams of Cuban baseball, and that's what really matters.
So far only two squads may rest in peace, the only ones which have overcome the line of the 50 victories. Current champs and runners up are still fighting not to get out of the medals encounters.
To be objective, the interpretation cannot be that simplistic. Roosters did not get into semis thanks to Industriales defeat last Wednesday; they made it because of their season as a whole, and classification is not decided in a single game or subseries.
Sancti Spiritus took control of its fate a while ago by remaining in the 1-2 position after a 97 games championship in which attaining the ticket is the most important goal. Even with the recent debacle in the last five subseries, there was no team posing a threat to that privileged place.
Don't let yourself get blinded by passion and fanatism. With this, Roosters have classified 11 times among the best eight, and five among the best four (three of them with medals: a silver and two bronzes).
This has been a very long battle and it is logic that the team is fatigued. It is not a secret that playoffs are kind of short miniseries in which the attitude is key, so it is just time of waiting to check if Roosters will be able to change their image in that phase of the tourney.