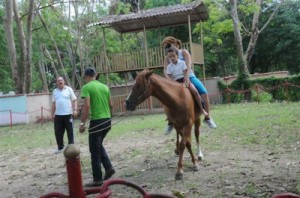 Over thirty children have been so far treated in Sancti Spiritus's Hippotherapy Provincial Center, where the natural medicine treatment introduced more than seven years ago has proved effective.
The institution is found within the local Delio Luna Echemendia Fair Center area. It cares for children suffering from infantile cerebral palsy, psychomotor retardation, language disorders, autism, Down Syndrome, and spastic paraplegia, among other diseases.
The center is not really a health institution. It is better described as a social, cultural, pedagogical, therapeutic, and sports facility. Nevertheless, according to therapist José Ramón Guillén Fernández, re-educating, rehabilitating, and treating special children is the center's major goal.
Over 50% of the patients report noteworthy improvement of balance, coordination, and walking, which have allowed them to re-incorporate themselves into social life.
[nggallery id=72]