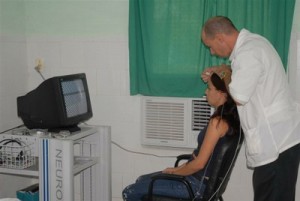 Several researches and projects are the focus of discussion in the First Neuroscience Workshop underway at Camilo Cienfuegos Provincial General Hospital, Sancti Spiritus.Lectures will be delivered on pathologies such as reversible cerebral vasoconstriction syndrome, subarachnoid hemorrhage, as well as the behaviour of certain neuropsychological and variables in children with attention-deficit/hyperactivity disorder (ADHD). A study on this disorder was started in Sancti Spiritus one year ago.
According to Juan Manuel Rojas de Dios, second degree specialist on normal and pathologic physiology, debates will also be focused on the results of brain tumour trials, and the treatment of vertebral disc prolapse.
The head of the local neurophysiology service, Dr. Teresa María Montes de Oca Domínguez, said that "Sancti Spiritus is the best equipped central Cuban territory for the diagnosis of neurophysiologic disorders, thus this is the only place where certain neurological and neurosurgical diseases are studied".
That is why patients from other provinces come here for treatment at the General Provincial Hospital, the Provincial Rehabilitation Hospital, or the Provincial Pediatric Hospital.