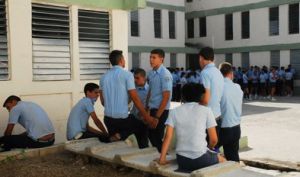 The Provincial Festival of Youth and Students will be held in Sancti Spirtus, central Cuba, on 11th and 12th October, under the slogan "Youth united against imperialism, for a world of peace, solidarity, and with social changes".
The festival will be attended by 150 participants, who were all elected in their respective grassroots organitions taking into consideration their own merits.
"We hope it will be a good exchange. The participation of young people from different territories and with different jobs and professions will avail a debate from different perspectives. This is the first time that the festival is held in the provinces", said Yoel Perez Triana, second secretary of the Communist Youth League in the territory.
Peace, war and imperialism; education, science and culture; communication and technology; employment, economy and development; democracy and human rights, are the main discussion topics of the event.
The festival's attendees will also participate in the presentation of the "Vision 500" audiovisual, the planting of the 18th Festival tree, and the anti-imperialist tribunal "I accuse the imperialism", among other activities.