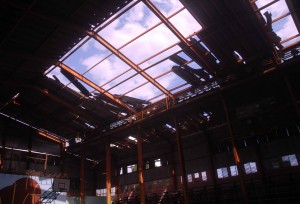 Damages to electricity, to housing and to centers of production and services, mainly in the glass and roofs, and downed trees in several parts of the city are the most visible consequences of the severe local storm that hit Sancti Spiritus, in central Cuba,  on Monday afternoon.
Although the harms have not been officially quantified yet, it was known that the Camilo Cienfuegos Provincial Hospital, the Yara Sports Center, LABIOFAM facilities and the vinegar factory, were among the hardest hit places by the event.
Sources from the Provincial Meteorological Center (CMP) consulted by Escambray said that the phenomenon was characterized by strong straight-line winds, which according to estimates were around 100 kilometers per hour, rain of short duration and sporadic hailstorms.
Freddy Ruiz, CMP specialist, added that the storm was the result of the presence of a superficial low pressure system, combined with the strong daytime heating and the confluence of the local wind regime, and that it hit mostly the south and east of the main city.
The storm lasted about 20 minutes, approximately between 2:50 and 3:10 pm, according to the expert and it is typical of the transition between the end of the drought and the beginning of spring.