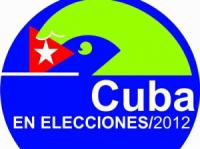 Teresita Romero Rodríguez and Eduardo Sánchez Cañizares were ratified in their posts as president and vice-president, respectively, of the Provincial Assembly of the People's Power in Sancti Spiritus.
The 75 delegates to this governmental body who were elected last February 3rd, were sworn in, and expressed their commitment to be loyal to their Homeland, and to observe the Cuban Constitution, laws and other legal regulations.
The 86% of the members of the Provincial Assembly here are new in their posts, over 55% are women, and most of them are university graduates.
When delivering the closing speech of the ceremony, José Ramón Monteagudo Ruiz, member of the Central Committee and first secretary of the Cuban Communist Party in the territory, highlighted the participation of locals in the general elections. He also called the delegates to be very attentive to the opinions and complaints of the population.
The solemn act was also attended by special guests Dignora Montano, member of the Council of State of the Republic of Cuba, and Minister of Justice María Esther Reus.
(Taken from AIN, and translated by Escambray)