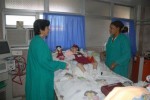 Seven-year-old girl lives in Sancti Spiritus Jose Marti Pediatric Hospital.
Seven-year-old girl Yésika Mora Hernández has spent most of his life in the progressive intensive care unit of Sancti Spiritus Jose Marti Pediatric Hospital, where she was admitted over six years ago.
This girl has a hereditary disorder of the motor neurons in her spinal cord, which caused atrophy and muscle wasting on her. This disorder is labelled in medical literature as Werdnig Hoffmann disease.
This degenerative and paralyzing condition prevents Yesika from moving at all, yet her intellect has not been affected. That's why, a special teaching program was prepared for her with the approval of her parents, and in coordination with the hospital's medical team.
In statements to AIN, Yesika Mora's mother Yairé Hernández said that the girl is now in the 2nd grade, and learns new things every day. "I will never forget the way in which we have been treated in this hospital. Yesika is like an adopted daughter here", she added.
Every week Maria del Carmen Caballero goes to the pediatric health institution for the young student's lessons. This experienced teacher must work very hard to prepare herself in order to ensure the education of this patient.
The girl's expressive eyes are always attentive to everything around her. That's the only way in which she can communicate. She takes her lessons dressed in her school uniform, and accompanied by Lola, the doll that Maria del Carmen made for her.
Dr. Yanadis Gallardo explained that this girl completely depends on a mechanic ventilation equipment, since the muscles of her thorax doesn't have enough strength to expand by themselves.
(Taken from AIN and translated by Escambray)