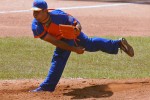 Sancti Spiritus' Roosters obtained their first victory in the 53rd Cuban Baseball National Season by beating Guantanamo's Indians 6×5 in a fought encounter.
The game at the Van Troi park, in the eastern province of Guantanamo, started wrong for the visiting team, whose ace Ismel Jimenez allowed three early runs which caused his squad to come from behind.
However, the star hurler from Trinidad, managed to recover and allowed his teammates to tie and take the lead to finally conquer his first triumph in the recently opened 2013-2014 baseball championship.
Roosters' key men at the offense played the role expected. Thus, Yunier Mendoza shot a double to tie actions to 3, and Eriel Sanchez and Livan Monteagudo brought over home plate the decisive runs.
Also important were Duniesky Barroso (4-2, 1RBI) , Yoandy Baguet (4-3, 3 R) and Frederich Cepeda (3-1, 2R), especially the first two who were included in the starting line up due to the absences of the Gourriel brothers.
So, Sancti Spiritus' win was a product of team work, in which the three areas combined to finally suceed.
Young Carlos Sierra was essential in Ismel Jimenez getting his first victory of the series as he got the last three outs of the game when Indians had narrowed the scored 6×4.
Sancti Spiritus and Guantanamo will continue their subseries during Monday (7:15pm local time) and Tuesday (1:15pm).
The rest of the games ended as follows: Villa Clara 2×1 Matanzas, Santiago de Cuba 6×3 Industriales, Holguin 2×1 Ciego de Avila, Las Tunas 7×0 Artemisa, and Mayabeque 4×3 Cienfuegos.