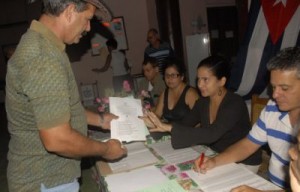 Since very early this morning, thousand electors in Sancti Spiritus, central Cuba, have been casting their votes to elect the delegates to the Provincial Assembly of the People's Power, and the local candidates to Cuban Parliament.
Many of them exercise their right to vote for the first time, nevertheless, they know that unlike last October 21 elections, they can now chose as many candidates as they want from those included in the pre-printed ballots.
Polling station officials were properly trained to offer the necessary explanation on the voting procedures, since electors are supposed to cast the vote in two different ballots. It is also their responsibility to inform that the vote counting takes place at 6:00 P.M., and that all those who are interested can witness the procedure.
Like in the rest of the island, Sancti Spiritus residents continue to go to the polls to back unity, and to defend social advancements, despite difficulties and limitations.
[nggallery id=46]