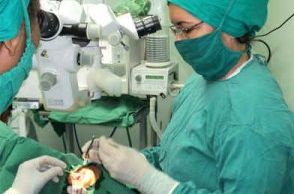 Nearly eight thousand people have undergone this ophthalmological technique since  its implementation began in the  Camilo Cienfuegos General Hospital, of  Sancti Spiritus city, in November 2002.
Dr. Carmen Cardoso Hernandez, first-degree specialist in Ophthalmology and pioneer of such a procedure in the central territory, told the Cuban News Agency that initially, only two doctors  practiced it but now "we are 40 and we have obtained good results."
To accomplish this surgical intervention is necessary that the lens (natural part of eye) is removed , as it presents opacity, and then it is replaced with an artificial one that performs the same function.
The implants have not worked out well for some patients due to illnesses, or difficulties related to the surgery, although the latter case rarely occurs.
The surgery, for outpatient care, allows to regain vision after 24 hours, and those who undergo it should receive medical monitoring for two months.
According to medical literature, in many cases the disease is associated with age, but there are other causes related to external or traumatic aggressions, caused by eye diseases, diabetes, and drug abuse (steroids).
It can also occur due to environmental problems, ultraviolet and infrared radiation.
There is a special type of cataract called congenital , which occurs at the time of birth, and can go undetected, thus compromising the future vision, so it is important that every child after birth is seen by an ophthalmologist.
TRANSLATED BY ESCAMBRAY