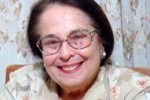 A national political-cultural meeting to honor late Heroine of the Republic of Cuba Vilma Espin took place this Friday in Sancti Spiritus, on occasion of the 83rd anniversary of her birth.
The Gilberto Zequeira Day Care Center, the first one created in the municipality of Sancti Spiritus, was the venue of the ceremony held annually in a different Cuban province after the death in 2007 of the fighter and revolutionary of mountains and plains.
The founding president of the Federation of Cuban Women received once again posthumous homage in recognition of her life and work, on this occasion from members of that organization and children of day care centers, for being Vilma the driving force behind the creation of that modality of education on the island.