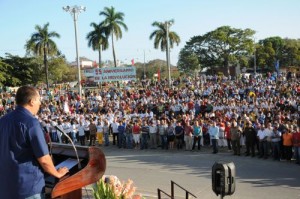 Sancti Spiritus residents gathered this Monday at the local Serafín Sanchez Revolution Square, to celebrate the 55th anniversary of the liberation of the town, by Rebel Army troops, led by Armando Acosta Cordero.
The commemoration was highlighted by Héctor Rodríguez Méndez who, on behalf of the Association of Combatants of the Cuban Revolution (ACRC) in the territory, recalled the most relevant actions carried out to bring freedom to Sancti Spiritus, more than half a century ago.
Several outstanding workers received decorations from José Ramón Monteagudo Ruiz, first secretary of the Party in the province, on occasion of the 40th foundation anniversary of the Attorney General's Office.
The key speech of the rally was delivered by Osbel Lorenzo Rodríguez, first secretary of the Party in Sancti Spiritus municipality, who praised the efforts made by the people in order to fulfil the guidelines passed in the VI congress of the Cuban Communist Party.
[nggallery id=81]