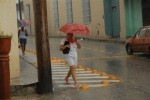 Despite latest rainfall was not significant in Sancti Spiritus, it was quite beneficial. Precipitations were associated here with the typical warming of the day, and with the tropical storm Andrea, the first of this year's hurricane season in the area.
Highest rain records were reported Thursday in the towns of Guasimal (92 mm), and Tunas de Zaza (50 mm), while Banao (50 mm) and Pojabo (38.5 mm) were the most relevant on Friday.
Over 633 000 000m³ of water had been stocked Friday morning in the territory, while Cuba's largest reservoir Zaza dam was filled with some 487 000 000m³, which represent 48% of its total capacity.
According to local sources, weather conditions will gradually improve from this Saturday on.