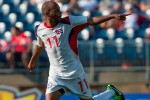 Ariel Martinez, one of the forgotten for a long time in Cuban football, was crucial in his team's dream of moving to quarterfinals as one of the best third-placed.
Ariel Martinez struck for a hat-trick and Jeniel Marquez Molina scored a dramatic stoppage-time goal to lift Cuba to a 4-0 victory over 10-man Belize in both team's final Group C game in the CONCACAF Gold Cup at Rentschler Field on Tuesday evening.
Needing to score four goals to surpass Martinique as the second ranked third-place team, Cuba did so in the final moments of the match — three minutes into added time — clinching its second quarterfinals berth. Liban Perez headed a cross from the right wing to Marquez Molina, who gently guided a right-footed shot into the net.
As a result, the Lions of the Caribbean will meet Panama on Saturday at the Georgia Dome in Atlanta.
"It was like winning the World Cup," Martinez said. "It was a great achievement for us and made me very happy.  It was a great game for us. We put in as much effort as we needed to. It was a tremendous result."
Cuba took a 1-0 lead in the 38th minute.  Martinez made a diagonal run along the 18-yard box before hammering a shot from 22 meters inside the far post.
The 27-year-old forward added his second in the 63rd minute, finishing a long run with a blast from eight meters to give Cuba a 2-0 lead.
Three minutes after Ian Gaynair was sent off for his second bookable offense, Martinez netted his third in the 84th minute, taking a pass from Alberto Gomez and slotting it past Belizean goalkeeper Woodrow West.
Cuba pressured Belize from the outset, but West was up to the task. In the 14th minute, he saved Jaine Valencia's shot from 30 meters, while Molina flicked Valencia's free kick off the crossbar one minute later.
Belize had a pair of opportunities midway through the first half.  Deon McCaulay rolled a shot from 19 meters into Cuban goalkeeper Odelin Molina in the 16th minute and Michael Salazar's effort shortly afterwards went wide.
West continued to play well for the Central American side, denying Martinez on multiple occasions before and after the break.
But Cuba solved the 27-year-old netminder late — two minutes into stoppage time — and thanks to Martinez and Marquez Molina will continue its Gold Cup run into the knockout stage.
NOTES: The win was Cuba's second in 19 all-time Gold Cup games…Cuba set a new team mark for most goals in a Gold Cup game, previous high was two…Cuba had scored a total of four goals in its previous seven Gold Cup games…Cuba's only previous Gold Cup quarterfinals appearance came in 2003, when it lost 5-0 to the United States.
Taken from www.concacaf.com