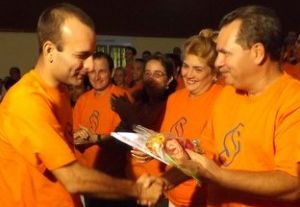 The Provincial Festival of Youth and Students was concluded last Saturday in Sancti Spiritus.
The anti-imperialist tribunal blamed imperialism for the human and material damages caused to the Cuban people, and for the bombs that have taken so many lives away in the world.
Peace, war and imperialism; education, science and culture; communication and technology; employment, economy and development; democracy and human rights, were among the main discussion issues of the event.  The 150 young participants also planted of the 18th Festival tree, and took part in several other activities.
The festival was concluded with the election of the eight delegates who will represent Sancti Spiritus in the 18th World Festival of Youth and Students, to be held in Quito, Ecuador.