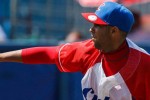 The opening of the 14th World Port Tournament for Cuba had among its protagonists Sancti Spiritus' hurler Ismel Jimenez and third baseman Yulieski Gourriel in the 3×0 victory over Curaçao.
Manager Yovani Aragon, also from the Cuban central province, placed Jimenez as the first starter for the national squad, and the player born in Trinidad (southern Sancti Spiritus) did it great.
Ismel, member of team Cuba in the last two editions of the World Baseball Classic left Curaçao with no runs in eight innings, in which he allowed six hits and stroke out ten rivals.
The performance of Jimenez was supported by the offense of his provincial team-mate Yulieski Gourriel (3-2, 1RBI, 1R), as well as second baseman Andy Ibañez (4-3, 2 R) and Jose Dariel Abreu (2RBI).
According to blog Zona de Strike, Cubans scored one at the bottom of the 1st due to sacrifly by Jose Dariel Abreu, who brought in Andy Ibañez, who singled and got to third base thanks to Gourriel's hit.
Thus, the game remained tight between hurlers Jimenez and Isabella until the 6th, when the leading team scored two more runs.
In that chapter, Ibañez got to first base on an error by Curaçao's short-stop and Yulieski brought him over home plate with a triple; then Abreu brought Gourriel in with a rolling.
Cuba will face the Netherlands today at 1:30 pm (local time) with Noelvis Entenza as possible starter.