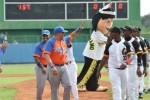 Sancti Spiritus baseball club won its first challenge of the 53rd Cuban Baseball National Season by conquering two of the three games held in Guantanamo.
Tuesday game meant the first loss for Yovani Aragon players who had beaten their rivals twice, on Sunday and Monday, with scores 6×5 and 4×0 respectively.
The last of the encounters of the subseries was a very fought one and lasted almost 6 hours till it ended with victory for locals 12×11.
However, you could say that Sancti Spiritus' Roosters were able to rule on "foreign" territory as Indians needed to show their best to take at least one triumph as guests.
Summing up this matches we can name Livan Monteagudo (ave 500, 12-6, 3 RBI) as the best batter and Angel Peña as the best hurler (7.2 IP, 0.00 ERA, 3 SO).
Sancti Spiritus will visit Villa Clara, the current champions of Cuban baseball, from Thursday to Saturday.