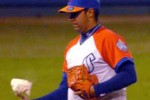 With another effective pitching by Ismel Jimenez, Sancti Spiritus beat Isla de la Juventud Pirates-Sharks 5xo and it is now placed 2 games ahead its nearest  rivals.
Ismel worked in 8 innings, granted no walk, allowed only 5 hits and lowered his ERA to 1, 14 (currently 2nd in the tourney). This way Sancti Spiritus ace got his 8th victory with no defeat and shared position with current leader lefty Wilber perez. The game was closed by Omar Guardarrama.
Roosters made the difference in the 4th thanks to uncontrolled Sharks' starter Hector Mendoza, who walked brothers Yunieski and Lourdes Gourriel, threw a wild pitch, and allowed Robersis Ramos single to the right field.
The score grew bigger a chapter later when Yunier Mendoza opened with double, reliever Raicel Iglesias got an out over Frederich Cepeda, walk intentionally Yulieski Gourriel to pitch Eriel Sanchez, and this one made his rivals regret their decision by shooting a homer.
The blast placed Eriel second in homers (6) and first in runs brought in (29), the latter being a tough fight with teammates Cepeda and Gourriel.
With the triumph, Sancti Spiritus won its 6th series in a row, and the 15th encounter in the last 18, a result that reaffirms the team as leader with 24 wins and 9 defeats.