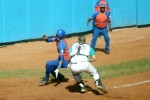 Sancti Spiritus faces Isla de la Juventud as visitor in search of the second qualifying position for the semifinals.
After losing its 4 last subseries vs. Villa clara, Ciego de Avila, Cienfuegos and Matanzas, in all cases 2×1, Sancti Spiritus's Roosters go to Isla de la Juventud to win the game that will qualify them for the final stage of the 52nd National Series
The sons of the Yayabo village will look for peace as they face seven placed Isla de la Juventud (39-41). So far the only team with the ticket is the first positioned Cienfuegos (52-29), with two games ahead of runners up, Sancti Spiritus's Roosters (50-31).
The statistics provided by the Cuban baseball site favor Pirates in average batting (284  for 261) and defense (281 for 275), while Roosters are better in the pitching area (3, 52 for 3, 73).
However the most interesting duels will be Industriales-Ciego de Avila, and Matanzas-Villa Clara, all with options for semis, though the latter seem to have more clear chances.