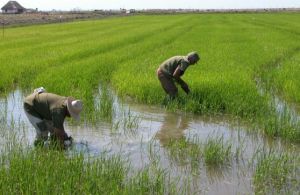 Sancti Spiritus´ rice planters were able to surpass the delay of the early season and completed planting of 33 000 178 hectares planned for the current year, a result which constitutes a decisive step to ensure the production growth expected.
The engineer Boris Luis Rodriguez, rector of the rice business in the territory, said the total planted, more than 29 000 300 hectares, comes from the cooperative and agricultural sector, including the five UBPCs existing in the state.
The incorporation of new agricultural equipment, securing the necessary inputs for the campaign and favorable weather conditions have played a determinant role in achieving the planting program in the course of harvesting and industrial processing of the grain.
Sur del Jíbaro, main locality of rice production in the province of Sancti Spiritus, central Cuba, has received in recent years about 190 teams, including rice mowers, tractors, vehicles, trailers and various agricultural implements, as a result of an investment project amounting to more than 14 million, half of them in foreign currency.
Of the 122 000 tonnes of wet paddy rice planned for the year, the province accumulates more than 55 thousand, and according to the current pace of the race, such amount could exceed the cold season commitment by mid August.