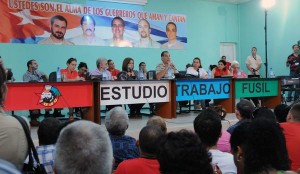 Republic of Cuba Hero Rene Gonzalez addressed this Wednesday the delegates to the VIII Congress of the Federation of University Students (FEU), underway in Havana.
The antiterrorist fighter answered the questions of the young delegates, and emphasized on the need to study history without superficiality, so as to be able to face the complexity of current global reality.
"It is not by getting ourselves isolated from the rest of the world how we'll get to it. It's impossible to do that faced with nowadays technologies", he said. "We are aware of what happened in the socialist bloc. In order to consolidate this victory, to make it certain, we must deepen into history, search for the truth, for the mistakes. We must look at history in the face, because the building up of socialism is the work of imperfect people, the result of many contradictions among ourselves, a struggle between different points of view, within a context in which capital is hegemonic".
Likewise, the Cuban Hero called to read Carlos Marx and Marti, and referred to the importance of listening to what youth have to say, without any exception. "As long as you meet the challenge of today's circumstances, you will be doing your best for my imprisoned comrades", Gonzalez pointed out.
The meeting, also attended by relatives of the Cuban Five, was an opportunity for the FEU congress delegates to honour Dr. Armando Hart Dávalos, director of Marti Program Office, and president of Jose Marti Cultural Society, on his birthday anniversary.
[nggallery id=71]
(Taken from Granma, and translated by Escambray)