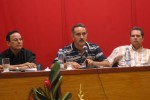 Hero of the Republic of Cuba, Rene Gonzalez, was proposed this Wednesday in Sancti Spiritus as delegate to the 11th Congress of the Union of Journalists of Cuba (UPEC, in Spanish).
Attendees to the UPEC meeting in this territory adopted the agreement as recognition to that who spent almost 15 years imprisoned in US for fighting terrorism, along with other four Cubans who are still in jail.
The over 120 UPEC members in Sancti Spiritus ratified their decision to stick to their task of giving people due and objective information, and called to be faithful to the guidelines of Cuban Communist Party Political Bureau.
The meeting was presided over by José Ramón Monteagudo, member of the Communist Party Central Committee, and first secretary of the Party in Sancti Spiritus. Also present in the forum UPEC President Tubal Paez, as well as other Party and UPEC representatives.
(Taken from AIN and translated by Escambray)