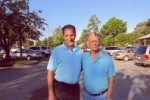 Cuban anti terrorist fighter Rene Gonzalez, currently under probation in the U.S. was granted permission to visit Cuba for two weeks, to attend a memorial service for his father Cándido, who died on April 1st.René still needs to obtain a passport from the U.S. State Department in order to travel, the international Committee for the Freedom of the Cuban Five announced.
Last year, when he was also granted permission for a 2-week visit to see his terminally ill brother Roberto, the State Dept. took 10 days to issue the passport, and it was only valid for 30 days.
René is still being cruelly forced to spend three years on parole in the U.S. despite having finished his 15-year prison sentence last year, the committee said in its announcement.
His motion to be allowed to spend the rest of his parole in Cuba, which is a common practice for parolees from other countries, has been pending before the Judge Joan Lenard for ten months.
This small victory, while important to allow René to briefly be with his family at this time of sorrow, can in no way compensate for the nearly 15 years that René was unable to be with his family. Nor does it make up for the vindictiveness with which the government has treated René and the other members of the Cuban Five over the years, with lengthy periods of solitary confinement, refusal to allow two of their wives (René's and Gerardo's) to visit them in prison, and more.
Rene Gonzalez, Antonio Guerrero, Gerardo Hernandez, Ramon Labanino and Fernando Gonzalez, known as the Cuban Five, are heroes who prevented acts of terrorism and should never have been in prison in the first place.
It is long past time for the U.S. government to free them and allow them all to return to Cuba to their family and compatriots, permanently, concluded the announcement of the Committee.