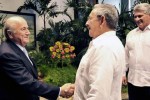 Army General Raul Castro, president of the Councils of State and Ministers welcomed Wednesday afternoon Joseph Blatter, president of the International Football Federation (FIFA).
Castro and Battler talked about the development of football in Cuba, and about the FIFA-supported projects being fostered for several years now.
The meeting was also atended by Fisrt Vice-President of the Councils of State and Ministres Miguel Díaz-Canel, President of the Cuban Olympic Committee Jose Ramon Fernandez, INDER President Christian Jimenez, as well as Jeffrey Webb, vice-president of FIFA and president of CONCACAF, and FIFA Secretary General Jérôme Valcke.
Durante su visita el presidente de la FIFA se reunió con autoridades del deporte, visitó el Estadio La Polar y la Escuela Nacional de Fútbol Mario López, y sostuvo un ameno encuentro con varios atletas veteranos.
During his visit, Blatter met with Cuban sport authorities, visited La Polar Stadium and Mario Lopez National Soccer School, and met with several soccer veterans.
(Taken from Granma and translated by Escambray)
FIFA President Tours Cuban Soccer Facilities
Swiss Joseph Blatter, president of the International Soccer Federation (FIFA) toured several Cuban soccer installations in the city of Havana, as part of his visit to Cuba.
Blatter stayed in Cuba for two days, and visited the grounds in which the first artificial grass playground for soccer in Cuba will be constructed, at La Polar Stadium.
There, Blatter met soccer veterans in Cuba, and verified himself the conditions of the ground in La Polar Stadium, chosen to built the new playground for which FIFA will contribute with 1.3 million dollars.
Later, Blatter, who arrived in Cuba accompanied by French Jerome Valcke, FIFA secretary general, and Jeffrey Webb (Cayman Islands), president of the North, Central American and Caribbean Soccer Confederation (Concacaf), visited the Mario Lopez National Soccer School, a place constructed by the benefits received from the FIFA Goal Project Program.
At the National Soccer School, Blatter and his comrades received information on the work of the school and details on the 69 athletes registered in the school. Blatter highlighted the results reached with the link between study and sports, and asked about the broadcasting of soccer matches in the Cuban national television.
Blatter arrived in Cuba Tuesday afternoon, and his tour includes other Caribbean countries such as the Dominican Republic, Haiti and Panama.
"It is a great pleasure for me and the FIFA delegation to be once more in Havana," Blatter said after he had arrived.
Blatter's visit to Cuba is his second, after a previous trip in 2000.
(Taken from Prensa Latina)