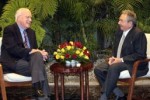 Cuban President Raul Castro, received on Tuesday the honorable  Senator Patrick Leahy, democrat for the US State of Vermont and president pro-tempore of the US Senate and chairman of its Judiciary Committee, who is paying a visit to Cuba.
Senator Leahy is heading a US Congress delegation to Cuba, made up of Democratic Senator Debbie Stabenow, of Michigan and Chairwoman of the Senate Committee on Agriculture, Nutrition and Forestry; Democratic Senator Sherrod Brown, of Ohio; Democratic Senator  Sheldon Whitehouse, of Rhode Island; Republican Senator Jeff Flake, of  Arizona; Democratic Representative James Mc Govern, of Massachusetts; Democratic Representative Chris Van Hollen, of Maryland, and other personalities.
During the meeting, which was attended by Cuban foreign minister Bruno Rodriguez, participants addressed issues of bilateral issues. Later, the Cuban president exchanged views with the members of the delegation.
During their stay on the island, the US parliamentarians have met with  the president of the Cuban National Assembly of People's Power, Ricardo Alarcon, and by foreign minister Bruno Rodriguez.