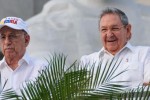 Cuban President Raul Castro is presiding over the central rally and march marking May Day, at Havana's Jose Marti Revolution Square.
Also presiding the celebrations for International Workers Day are members of the Cuban government and Communist Party, relatives of the five Cuban anti-terrorist fighters held in the United States, distinguished guests and representatives of the grassroots, student and youth organizations, along with Cuban labor heroes.
Cuban Vice-president Salvador Valdes Mesa gave the opening remarks of the ceremony.
Over 2 000 friends of Cuba from over 73 countries of the world are joining the massive march of the Cuban workers in this May Day celebrations dedicated to Bolivarian leader Hugo Chavez Frias.