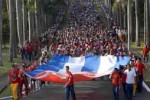 Cuban President Raul Castro presided over on Monday a political and military ceremony marking the 55 anniversary of the opening of the Frank Pais 2nd Eastern Guerrilla Front.
Floral wreaths on behalf of Revolution leader Fidel Castro, President Raul Castro and the Cuban people were laid before an eternal flame at the 2nd Front Mausoleum at the 2nd Front, which treasures the mortal remains of guerrilla fighters killed in action.
The guerrilla front, which was opened on 11 March, 1958, under the command of then Commander Raul Castro, was crucial to achieve the victory of the Rebel Army against the Fulgencio Batista dictatorship, which was defeated January 1, 1959.
The second secretary of Cuba's Communist Party Central Committee and Cuban vice-president Jose Ramon Machado Ventura, who played a leading role at the front, was granted the title of honor of Hero of the Republic of Cuba and the Playa Giron Order.
Also attending the ceremony were first Vice-president Miguel Diaz-Canel, founders and veterans of the Second Front, as well as people from the territory named after that front.