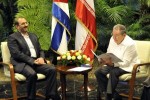 Cuban President Raul Castro held talks on Wednesday with Ali Saeidlo, special envoy of Iranian President Mahmoud Ahmadinejad, and with Uruguayan Foreign Minister Luis Almagro Lemes.
During the meeting, the Cuban leader and Saeidlo -who serves as Vice President for International Relations- talked about the excellent state of bilateral relations and the willingness to work for closer trade and economic ties between the two nations.
The two leaders also discussed other issues of international interest. In addition, the Iranian vice president conveyed a message from President Mahmud Ahmadineyad to Raul.
Present at the meeting were the ambassador of the Islamic Republic of Iran to Havana, Ali Chegeni, and Cuban Foreign Minister Bruno Rodriguez.
Saeidlo arrived in Havana on Monday and said that his visit was aimed at strengthening economic ties between the two countries. On Tuesday, he met with Cuban Vice President Ricardo Cabrisas and they highlighted the interest of their governments to promote joint economic and trade projects.
Havana and Teheran established diplomatic relations for the first time in 1975, but the relations were severed a year later and resumed after Iran's Islamic Revolution in 1979.
Cuba supports Iran's right to develop a peaceful nuclear program, while Teheran condemns the U.S. economic and trade blockade imposed on the Caribbean island for over a half a century.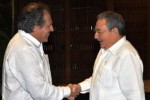 Raul Castro Receives Visiting Uruguayan Foreign Minister
Cuban President Raul Castro met on Wednesday afternoon with Uruguayan Foreign Minister Luis Almagro Lemes, who is on an official visit to the island.
Both leaders expressed their mutual satisfaction for the positive state of bilateral relations and spoke about the process of integration in the region, particularly the prospects of the Community of Latin American and Caribbean States (CELAC) and the Souther Common Market (MERCOSUR), the rotating chairs of which are in the hands of Cuba and Uruguay, respectively.
Accompanying the distinguished visitor was Uruguay's ambassador to Havana, Ariel Bergamino. Cuban Foreign Minister Bruno Rodriguez was also present at the talks.