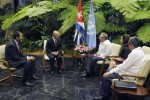 Cuban President Raul Castro met on Monday with the General Director of the International Atomic Energy Agency (IAEA) Yukiya Amano, who is on an official visit to Cuba.
Raul Castro and Yukiya Amano addressed bilateral relations between Havana
and the international agency, as well as issues relevant to the world situation. They also exchanged views on the promotion of cooperation for the
peaceful use of nuclear energy.
The distinguished visitor was accompanied by the director of the Latin American Division of the IAEA Technical Cooperation Department, Luis Carlos Longoria.
Also attending the meeting was Cuban acting foreign minister Marcelino Medina.