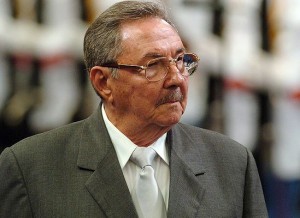 President Raul Castro is heading the Cuban delegation that will attend the funeral services for Nelson Mandela, who passed away last Thursday in Johannesburg.
The Cuban television announced on Sunday that the Cuban delegation is also made up of foreign minister Bruno Rodriguez and ambassador to Pretoria Carlos Fernandez de Cossio.
Book of Condolences Opened at South African Embassy in Havana
Over 50 heads of state and other world leaders are expected to attend the funeral service, which will take place in Johannesburg on December 10 and five days later Mandela will be buried in his hometown Qunu.
Brazil's Dilma Rousseff will travel to South Africa on December 14, while Colombia's Juan Manuel Santos asked three former presidents to participate in the funeral services, since he will not be able to attend.
US President Barack Obama will travel to the African nation to pay his respects to Mandela, according to the White House.
Other personalities to attend the funeral services include Spain's Prince Felipe and government president Mariano Rajoy, Canadian Premier Stephen Harper and some of his ministers, France's Fracois Hollande, among others.