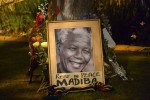 The South African Embassy in Cuba announced the opening of a book of condolences for the passing of former South African president Nelson Mandela.
In a communiqué sent to Granma newspaper, the embassy invites all citizens to express their grief for the loss of the great leader by signing the book, which will remain open from December 9th to 13th.
The embassy, located on Havana´s Fifth Avenue and 42nd Street, has announced a funeral service on Wednesday, December 11th at the diplomatic headquarters in the Cuban capital.
The embassy announcement says that the government and people of South Africa are deeply moved by the gestures of affection received from governments, international institutions, the civil society and millions of people from around the world.