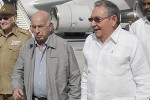 Cuban president Raul Castro returned to Cuba on Saturday afternoon after meeting an intense agenda in South Africa, where he paid posthumous homage to Nelson Mandela.
Upon his arrival in the Cuban capital, Raul and the delegation that accompanied him to the African nation were welcomed by Ramon Machado Ventura, second secretary of Cuba's Communist Party and by Interior Minister Army Corps General Abelardo Colome.
Raul's visit to South Africa was marked by strong emotion and intense work and it once again ratified the strength of historic relations between Cuba and the African nation, and the unquestionable willingness of deepening bilateral cooperation relations.
During his stay in South Africa, Raul also paid homage to the Cuban internationalist fighters and African combatants that fell in action during the liberation war in the African continent.
The Cuban president also met with President Jacob Zuma and  he held several bilateral meetings with leaders of other nations.