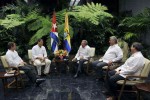 Cuban President Raul Castro held official talks on Friday evening with his Ecuadorian counterpart Rafael Correa, who paid a working visit to Cuba.
During the fraternal meeting, held at the Palace of the Revolution, the two heads of state expressed their satisfaction for the excellent bilateral relations between their nations, which are based on solidarity and collaboration. They ratified their willingness to keep enhancing bilateral links.
Raul Castro and Rafael Correa also exchanged views on several regional and international issues, Granma newspaper reported.
The Ecuadorian President was accompanied by Foreign Minister Ricardo Patiño. Also attending the talks were Cuba's First Vice-President Miguel Diaz-Canel and Foreign Minister Bruno Rodriguez.
Rafael Correa returned to Ecuador after midnight and he was seen off by Raul Castro at Havana's Jose Marti International Airport.