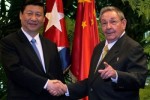 Cuba's President Raul Castro sent a message to Xi Jinping, who was elected President of the Republic of China.
Prensa Latina is posting below the full text.
"Dear Comrade:
On the occasion of your election as President of the People's Republic of China, I extend my warmest congratulations, on behalf of the Cuban people and government. We are convinced that under your leadership, that brother country will reach new successes in building socialism.
I could have appreciated the importance that you give to the development of the fraternal relations between China and Cuba. I take the opportunity to ratify our will to continue working together to further strengthen and expand them.
I reiterate the testimony of my highest consideration and fraternal esteem.
Raul Castro Ruz,
President of the Councils of State and Ministers
Republic of Cuba.
Cuban Leaders Greet Top Chinese Officials" Election