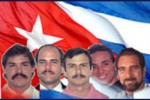 Ramon Labañino optimistic for the return of his brother to Cuba.
Now René is Free!
We are overcome with optimism, with joy, because the long-awaited freedom of one of our brothers is now reality. It was time already! After so much delay and injustice! Above all, we feel very relieved that our comrade is no longer in danger of his life, not having to stay one second more in that scenario surrounded by the threats we all know of.
With him, we four also feel a bit freer. It is as if a part of us is already at home, with our families and friends, in the heart of our people, with our sisters and brothers of the world.
René is our forward detail. He carries with him the embrace and affection of the Five to all of you. With his presence are all the Five: In each action that is carried out for the good of Cuba and humanity, in his new responsibilities and tasks, in his new missions and dreams. He will be there until finally the Five find ourselves free, in that land that we love so much.
We are filled with joy and with the optimism that love and truth always win over injustices!
Venceremos!
Five eternal embraces!
Fernando.
Gerardo.
Antonio.
Ramón.
FCI Ashland, Kentucky
May 6, 2013. 9:29 AM
Taken from http://www.freethefive.org