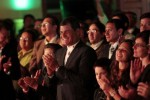 Rafael Correa was re-elected President of Ecuador according to exit poll results at Sunday's general elections.Correa's strongest rival Guillermo Lasso, from the CREO party, got between 20 and 23.1 percent of the votes.
The results will be official once the National Electoral Council finishes the vote counting, by 19:00 local Ecuador time, according to PL news agency.
Correa, candidate for the ruling Alianza Pais Movement, is celebrating his announced victory with his cabinet and relatives at the Carondelet presidential palace.
The electoral process was marked by calm and normality during the day, UNASUR observer mission said in a report issued on Sunday
(Taken from RHC)