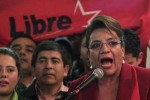 Supporters of the defeated presidential candidate in Honduras have taken to the streets of the capital, Tegucigalpa, to protest the results of the presidential election.
On Sunday, more than 5,000 supporters of leftist presidential candidate Xiomara Castro, who is the wife of ousted President Manuel Zelaya, marched on the offices of the election commission to demand a recount of the ballots.
Castro's Liberty and Refoundation Party (LIBRE) has refused to accept the election results, claiming a blatant fraud was committed during the counting of ballots.
"We do not want fraud in Honduras. We do not want a government born out of cheating and deception", said Zelaya addressing protesters at the demonstration.
According to official election results, Castro lost the election last week by eight percentage points to ruling National Party's Juan Orlando Hernandez, who won with 36.8 percent.
The LIBRE party on Monday will file papers for a "review of all the records and the polls".
The head of the election commission, David Matamoros, said later on Sunday night that the tribunal had spoken with LIBRE, telling the party it was willing to allow it to review the electoral record.