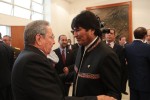 Cuban President Raúl Castro, bid farewell to Venezuela on Saturday alter attending the official funeral of late President Hugo Chavez, who died on March 5.
Shortly before getting on board the plane, the Cuban leader exchanged some words with Venezuelan Foreign Ministry officials and the military officer who accompanied him.
Raul traveled to Caracas on Thursday to pay posthumous homage to the Venezuelan leader Hugo Chavez on behalf of the Cuban people.
At the Simon Bolivar Hall of the Military Academy of Venezuela, Raul stood in front of the coffin, giving a military salute. He was accompanied by Venezuelan Vice President Nicolas Maduro, family members of Hugo Chavez and other heads of state and government.
The Cuban president also greeted Chavez's mother, Elena, as well as his brothers, sisters and daughters.
President Hugo Chavez, iconic Latin American leader, protector of the poor and close friend of Cuba, died on Tuesday after battling with cancer for nearly two years.