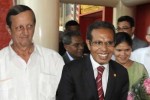 His Excellency Taur Matan Ruark, president of the Democratic Republic of Timor-Leste, arrived in Cuba on Thursday evening for an official visit to the Caribbean nation.
Upon his arrival to Havana, the president referred to the fruitful cooperation between his country and Cuba, which began in April 2004 with the arrival of the first Cuban doctors to that nation located in Southeast Asia.
Taur Matan Ruark was welcomed by Miguel Angel Ramirez Ramos, director of the Asia and Oceania Department of the Cuban Foreign Ministry and members of the embassy Timor Leste in Cuba.
During his four-day visit, the dignitary will hold official talks with Cuban authorities and will participate as well in a meeting with scientists from the Centre for Genetic Engineering and Biotechnology (IGBC).
Cuba and the Democratic Republic of Timor-Leste established diplomatic relations on May 20, 2002 and maintain bonds of cooperation and mutual respect.