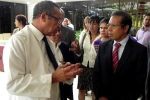 President of East Timor, Taur Matan Ruak, said on Monday that he was satisfied with his visit to Cuba, which was aimed at consolidating relations with the island, particularly in the areas of education and health.
The Timorese head of state was seen off at Havana's Jose Marti International Airport by Deputy Foreign Minister Rogelio Sierra and members of Timor's embassy in Havana.
During a visit to the Genetic Engineering and Biotechnology Center prior to
his departure the Timorese President said that education and innovation are
key elements to expand bilateral collaboration between the two countries.
Taur Matan Ruak and his delegation toured the scientific center and were
briefed about the most recent projects developed by that institution, such
as the pharmaceutical known as Heberprot-P, which is used in the treatment
of diabetic foot ulcers, and the Hepatitis-B vaccine.
Timorese health minister Sergio Gama was interested in the two Cuban
products and collected information on their use.