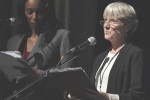 Nearly 150 delegates from 31 nations are attending the event which will be focused on four major topics. Foreign experts mostly come from Japan, Brasil, Venezuela, Iran and the United States.
The 17th World Congress of the International Association of Physical Education and Sport for Girls and Women (IAPESGW) was officially inaugurated April 10th in Havana with speeches by British Professor Tansin Benn, and Cuban sport leader Alberto Juantorena.
Twice Olympic champion and Vice President of the National Institute of Sports, Physical Education and Recreation (INDER) said that the meeting, the second one held in Latin America, will be appropriate opportunity to suggest actions that help dignify the role of women both in sport and physical education.
The congress's scientific sessions will be held at Havana's Convention Palace from Thursday to Saturday, and will be focused on four major topics concerning physical education and sports for everyone, management and leadership, the so-called inclusive sports, and education and pedagogy.
The opening ceremony of the physical education and sport event was also attended by INDER's President Christian Jimenez, and by other sport officials and former outstanding athletes.
(Taken from www.jit.cu, and translated by Escambray)