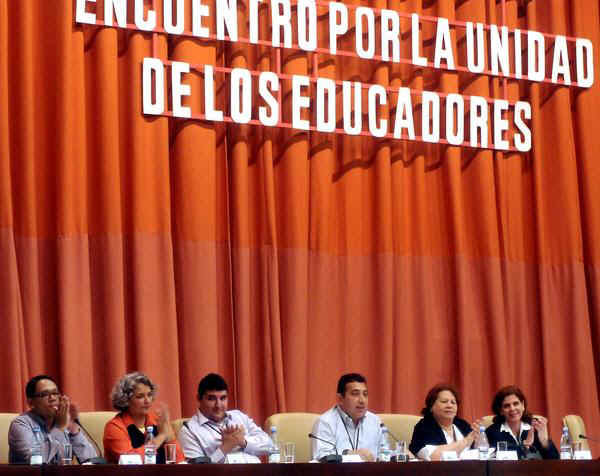 The International Congress "Pedagogia 2013" concludes today after five days of deliberations, in which almost 4,000 delegates from 40 countries have participated, with sessions dedicated to contribute to educators' unit.
The event, taking place at the Havana's International Conference Center, expects in the last day a special speech by Venezuelan Minister of People's Power for Education Maryann Hanson Flores, as well as a panel about Cuban national hero Jose Marti.
About 20 symposia and forums developed in these days as a platform for the exchange of experiences among teachers worldwide will be also carried out.
The event held yesterday the First Meeting of Education Ministers of the member countries of the Community of Latin American and Caribbean States (CELAC), with the participation of representatives of 26 countries of which 11 were led by their ministers.
According to Cuban Minister Ena Elsa Velazquez, the congress approved a final declaration and an agenda specifying the concrete agreements about issues such as the eradication of illiteracy, the struggle for inclusion, the expansion of coverage in the basic education, and teacher training.
Velazquez said the meeting included about 30 speeches, which showed the potential of the region to advance education.
This was the first ministerial meeting of the CELAC, which took place since Cuba recently assumes the pro tempore presidency of the regional bloc, which brings together 33 independent countries of the area.