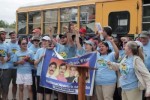 The 24th Pastors for Peace caravan to Cuba kicked off a tour of several US cities to educate about the US blockade of the island and to collect humanitarian aid for the people of Cuba.
The caravan includes activists from all corners of the United States, who express their affection and respect for the Cuban people, said Manolo de los Santos, member of the group as cited by Radio Havana Cuba.
De los Santos explained that the caravan is a new challenge against the US economic, commercial and financial blockade maintained by several US administrations against the Caribbean nation.
The caravan will visit cities all the way from Los Angeles to New York, and from Washington D.C. to Seattle, as well as the Canadian cities of Vancouver and Toronto.
The activist announced the participation of members of Occupy Sandy, an organization assisting the victims of hurricane Sandy in New York, and representatives of a pro-immigrant group in California. Other participants include members of the Vancouver Solidarity Committee and the Movement of Churches for Peace, from Mexico.
The activists will stay for two weeks in Cuba to participate in educative and religious activities. They are expected to arrive here on July 18 after collecting humanitarian aid particularly to support reconstruction efforts in eastern Santiago de Cuba city, which was hard hit by hurricane Sandy.