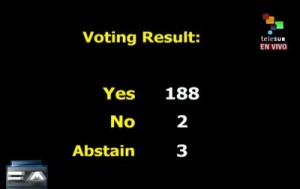 General condemnation of US blockade of Cuba at UN.
For the 22nd consecutive annual vote, the UN General Assembly overwhelmingly condemned Washington's blockade of Cuba.
The vote, held on Tuesday, saw only one country –- Israel — joining the United States in supporting the antiquated economic and trade blockade of the island.
A record number of countries voted in favor of the Cuban resolution, rejecting Washington's unilateral and extra-territorial blockade. A total of 188 member nations of the General Assembly called for an end to the U.S. measure.
Three countries abstained from the vote: Micronesia, the Marshall Islands and Palau.
Presenting the Cuban resolution before the UN General Assembly, just before the vote, Cuban Foreign Minister Bruno Rodriguez
said that Washington blockade "is an uncivilized act that prevents the free circulation of persons, the free flow of information, the exchange of ideas and the development of cultural, sports and scientific relations."
The top Cuban diplomat went on to say that the U.S. policy against Cuba is suffering from an absolute international isolation and discredit and lacks every ethical or legal ground."