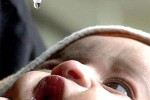 Over one million Cuban children will be administered a polio vaccine between March and April to keep them protected against the disease, which could possibly cause permanent disability and death.
The National Polio Campaign will be carried out in two stages, beginning in early March with the administration of the vaccine to 386 thousand 887 children under 3 years of age, according to Granma newspaper.
A second dose will be administered to the group of children between April 19th and 25th, plus the reactivation of the vaccine for 132 thousand children at the age of nine.
Latin America has been free of Polio since 1991; Cuba was the first country in the region to wipe out the disease in 1962, based on massive vaccination campaigns implemented by the Revolutionary government.