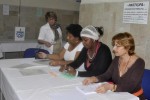 Over eight million Cuban citizens will go to the polls tomorrow, Sunday, to elect 612 Parliament deputies, said the president of the National Electoral Commission Alina Balseiro.
The election by free and secret vote, as established by the 1992 Electoral Law, will also include 1 thousand 269 hundred delegates to 15 provincial assemblies of People's Power.
Nearly 30 thousand voting stations have been set up throughout the island to carry out the general election, which is expected to be marked by a massive turnout.
More than 225 thousand electoral authorities were appointed to lead Sunday's vote, with nearly 150 thousand of them working at the voting stations.
The election workers received training to guarantee the success of the electoral process, while the electoral system was submitted to a dynamic drill last week.
The election of deputies and provincial government officials constitutes the second stage of general elections, which were called last July by the Cuban Council of State.
In October and November last year, over 8 million Cubans elected 14 thousand 537 councilors for the country's 168 municipalities.  The elected officials will occupy 50 percent of the seats at the Cuban Parliament and provincial governments.  The other 50 percent of seats will be filled by citizens proposed by social and grassroots organizations.