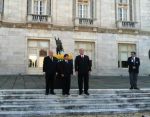 The Permanent Council of the Organization of American States (OAS) held a tribute to the leader of the Bolivarian Revolution, Hugo Chavez, during a special meeting on Friday.
The event took place at 10:30 am (local time) in the Simon Bolivar hall of the agency's headquarters in Washington, United States, reported Telesur network.
During the ceremony legacy of Chavez was recognized. A wreath was placed before the statue of the Liberator Simon Bolivar, located on the terrace of the main building of the OAS General Secretariat.
On 7 March, the OAS Permanent Council observed a minute of silence in memory of President Chavez, convened by Vice President of the Council and Permanent Representative of Barbados, John E. Beale.
On Wednesday, the United Nations Organization (UN) paid tribute to the leader of the Bolivarian Revolution at its headquarters in New York.
"President Hugo Chavez was one of those leaders who really made a difference in his country, the region and the world. His sense of solidarity with the most vulnerable people, his commitment to improve the lives of the underprivileged and his commitment to the the Millennium development goals and his cooperation in the hemisphere are also a sign of solidarity," said the UN secretary general, Ban Ki Moon.
Taken from AVN.