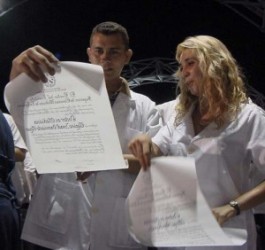 Average academic level among Sancti Spiritus population rose to tenth grade, which is considered the most outstanding educational achievement in the territory during the last 55 years.
Data compiled in the population and housing census carried out in Cuba last year, show that there are over 45 600 university graduates in this central Cuban territory, while 145 000 people have already completed middle-level education.
According to different publications' reports, at the triumph of the Revolution, people had access to primary school education for the most part, and only very few could go to middle-level institutions.
There is a wide network of educational institutions in this territory, including three universities. Before 1959, people had to go to Havana to get a university degree, which was also  possible in Santa Clara later on.
Consulted sources affirm that nearly 80 000 people are currently receiving education in Sancti Spiritus, which represents the 19% of the total local population above six years old.
In accordance with the territory's occupational needs, technical and vocational education is currently being fostered.
(Taken from AIN, and translated by Escambray)