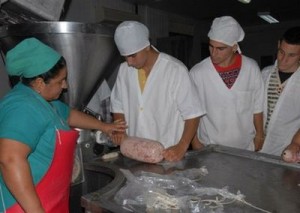 Self-employed workers of the service, construction, and transportation services are currently in charge of ten of the so-called annexed classrooms, in Sancti Spiritus, central Cuba.
After four years of their creation, the private sector is now involved in this teaching modality that brings students closer to the production of goods and services.
Sources from the local Department of Professional and Technical Education (ETP) said that the working places' administrations cannot always provide students with areas where to learn about the processes inherent in the different activities.
The abovementioned annexed classrooms meet the indispensable parameters to guarantee due vocational training.
The material conditions for the correct training of students are key factors for the certification of the annexed classrooms. There are 240 of such facilities located in local state entities.
The ministries of transportation, construction, agriculture, domestic trade, energy and mines, food industry, and Azcuba enterprise group, among others, count on experts and practical scenarios to train the ETP students in the territory.
The professional and technical education is priority within the Cuban educational system at the moment. It is subjected to changes according to the updates of the country's economic model.