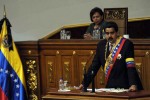 Venezuelan Executive Vice President Nicolas Maduro was officially sworn in on Friday as the country's acting president, following the death of President Hugo Chavez on Tuesday.
Maduro took the oath at a special session of the National Assembly attended by national deputies, government officials and international guests.
Addressing the National Assembly while holding a copy of the Venezuelan constitution in his hand, Maduro said: "I swear in in the name of our children, workers, soldiers and farmers in the country. I swear in in the name of absolute loyalty to Comandante Hugo Chavez that we will obey and defend this Bolivarian Constitution with the hard hand of a free people."
Afterwards, National Assembly Speaker Diosdado Cabello conferred the presidential band and necklace of Simon Bolivar, the symbol of the presidency, to Maduro. The participants sang the national anthem and offered him congratulations.
The Venezuelan acting president also said that he assumed the presidency "to protect the people, and to defend socialism and take forward and enforce its legacy." And he added: "I'm not here for personal ambition. I'm here to enforce Hugo Chavezś order."
Also addressing the special parliamentary session, Cabello said swearing in a president in charge after the death of Chavez is "mandatory and constitutional," refuting opposition leader Enrique Capriles, who condemned the Supreme Court's ruling to allow Maduro to be sworn in as acting president and run for president without leaving his office as a constitutional fraud.
Venezuelan acting President Nicolas Maduro was also sworn in Friday evening before the casket of the late leader of the Bolivarian Revolution, Hugo Chavez, shortly after he did before the National Assembly. Afterwards, Maduro appointed Jorge Arreaza, a former science and technology minister, as the country's new executive vice president.